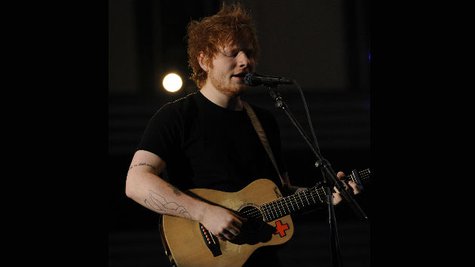 He's performed on the Grammy Awards and other major TV events, so it's hard to believe that Ed Sheeran still hasn't performed on Saturday Night Live. Well, "Everything Will Change," as the song goes, on April 12. That's when Ed will make his debut on the veteran NBC series, with a special musical performance.
The song that Ed will be performing on SNL will be the first single from his hotly anticipated sophomore album, due out this summer. The SNL appearance will mark the "global television premiere" of the song, according to NBC . So far, Ed hasn't shared the title of the tune, or when we can expect to hear it. Seth Rogen will be the host for that night's show.
Meanwhile, Pharrell Williams will make his debut appearance as a solo artist on SNL 's April 5 edition, with Anna Kendrick as host. Let's hope they team up for a mashup of "Happy" and "Cups (When I'm Gone)."
This weekend's installment of the show features U.K. singer Sam Smith , the vocalist on the song "La La La" by British producer Naughty Boy . Louis C.K. will be the host.
Copyright 2014 ABC News Radio