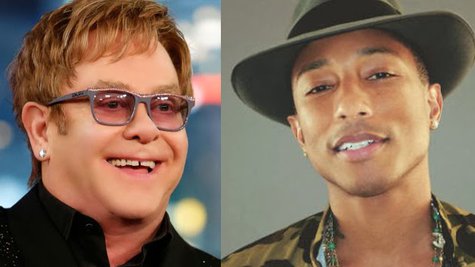 Unlike most artists his age, 66-year-old Rock and Roll Hall of Famer Elton John is very much into today's music. Not only has he collaborated with Ed Sheeran , but he played on the most recent Fall Out Boy album, as well as on the Kanye West song "All of the Lights." Now, he says he wants to get into hip-hop, and Pharrell Williams might help him.
Asked about his next musical project, Elton tells Rolling Stone , "I might do a couple of tracks with Pharrell. I don't know...I would love to [incorporate hip-hop into my music]. I just don't know how to do it. I do love electronica. So, for me, I'd have to work with someone who knows about it, like a Pharrell or a Kanye, who I respect tremendously. I'd love to do that"
Elton adds, "I could never do a rap record because I wouldn't know where to start. You can learn so much from working with somebody that does."
Not only that, but Billboard reports that Elton's recently lent his vocals to a "dance anthem" produced and co-written by OneRepublic's Ryan Tedder and Swedish House Mafia .
Despite these forays into current musical sounds, Elton says scoring a top-10 hit is "never going to happen" for him again. Still, he says he's happy to be represented in the top 10 in some way: Aloe Blacc's hit "The Man" includes bits of melody from Elton's classic tune, "Your Song."
"I'm very grateful for that," Elton tells Rolling Stone . "It's a top-10 record, and those little things come along and they give you a big kick up the bum and that's great, fantastic. It means your music is still relevant, but in a different form, in a different way. And I'm all for moving on."
Copyright 2014 ABC News Radio