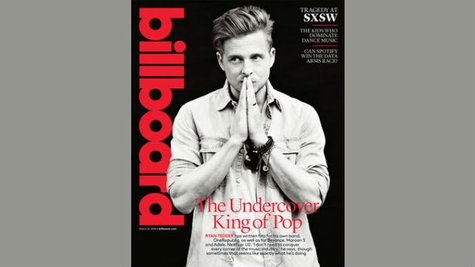 OneRepublic 's Ryan Tedder may be the lead singer of a hit-making band, as well as the writer of smash singles by Beyonce , Adele and Kelly Clarkson , but he's not exactly a paparazzi target. In fact, when he's out and about, he doesn't get recognized much at all, and that's good -- because he says if he gets too famous, he'll quit the business.
Speaking to Billboard from the road, for the publication's new cover story, Ryan says, "I don't get hounded, I don't get chased, I don't usually travel with security, and I still feel relatively like a normal person. The day that I can't go out and walk around Paris, I'm done. I'm not joking. If I can't do what I've done [in Paris over] the last five days, I'm done."
Of course, even if he quit touring and making records, Ryan would still be rolling in the dough from all the songs he writes for others. Billboard estimates that last year, he earned $2.5 million in songwriting royalties in the U.S. alone, and in the past six months, he's had a hand in Maroon 5 's "Love Somebody," Ellie Goulding 's "Burn," The Fray 's "Love Don't Die," Demi Lovato's "Neon Lights" and Beyonce 's "XO."
Lately, according to Billboard, Ryan's been working on forthcoming material by Taylor Swift , U2 , Ariana Grande and Elton John , but he's not neglecting his band: he also has a new OneRepublic song called "Love Runs Out" ready for release later this spring. In fact, Ryan says that all his success wouldn't be as much fun if he wasn't a member of OneRepublic.
"The thought of not being here with these guys with me feels like the experience when you go to camp and you're 10," he tells Billboard . "I did this to be with guys relatively close to my age, and we all go through this together. I don't ever want this to feel like The Ryan Tedder Show...I never thought I had a cool enough name to be a solo artist, anyway."
Copyright 2014 ABC News Radio