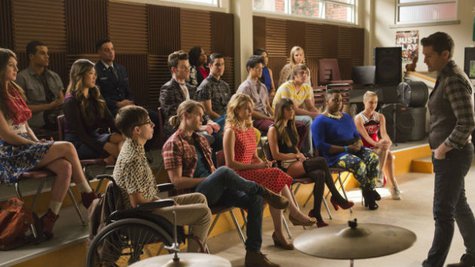 Old friends return, and old favorites are sung, on tonight's special 100th episode of Glee .
Last week's episode saw Principal Sue Sylvester breaking the news to Mr. Schuester that, because New Directions failed to win at Nationals, the glee club was being disbanded due to budget cuts. Tonight's episode, the first of a two-parter, deals with the aftermath of that decision: all the New Directions alumni convene at McKinley High to help bid farewell to the club that changed their lives.
Among the returning cast members are Dianna Agron , who plays Quinn; Mark Salling , who plays Puck; Heather Morris , who plays Brittany; Harry Shum Jr. , who plays Mike Chang; and Amber Riley , who plays Mercedes. In addition, friends and supporters, including April Rhodes, played by Kristen Chenoweth , and Holly Holliday, played by Gwyneth Paltrow , make appearances.
Mr. Schue then gives all the kids their final assignments: reinvent their favorite performances of the past to celebrate their achievements. That means you'll be hearing encore performances of favorites like "Toxic," "Defying Gravity, "Valerie," "Raise Your Glass" and, of course, "Don't Stop Believin'." All these performances, as well as a bunch of new ones featured in the second part of the episode, are captured in the soundtrack album, due out March 25.
"It was such a fun experience to really just pay tribute to all of the hard work that we've done over these past five seasons and celebrate the show that has been such an incredible success and has really changed so many people's lives," Lea Michele , who plays Rachel, tells ABC News Radio. "I think that everyone will really love the 100th episode and then after that, you know, it does take a little bit of a twist in the story lines."
She's referring to the fact that the show's focus is reportedly going to shift to focus on the gang's adventures in New York City, and essentially leave the younger students at McKinley Lima, Ohio behind. "I think that [the rest of] season five is going to be a really great season," adds Lea.
As for the impending end of Glee , which is scheduled wrap up with season six, Lea says she hasn't really thought that far ahead.
"That is a year and a half away, and I'm in this present moment," she tells ABC News Radio, when asked how she's feeling about the end of the show. "Check back in with me in over a year and I'll let you know!"
Here's a list of the songs that will performed on tonight's 100th episode, as well as those which will be performed during the second part next week:
"Keep Holding On"* featuring Mark Salling (Puck)
"Valerie"* featuring Naya Rivera (Santana) and Heather Morris (Brittany)
"Defying Gravity"* featuring Lea Michele (Rachel), Chris Colfer (Kurt) and Amber Riley (Mercedes)
"Raise Your Glass"* featuring Matthew Morrison (Will) and Kristin Chenoweth (April)
"Toxic"* featuring Naya Rivera (Santana), Heather Morris (Brittany) and Dianna Agron (Quinn)
"Total Eclipse of the Heart" *featuring Matthew Morrison (Will) and Kristin Chenoweth (April)
"Loser Like Me" *featuring Darren Criss (Blaine), Kevin McHale (Artie), Chord Overstreet (Sam) and Jenna Ushkowitz (Tina)
"Don't Stop Believin'"* featuring Lea Michele (Rachel), Darren Criss (Blaine), Chris Colfer (Kurt), Matthew Morrison (Will), Kevin McHale (Artie) and Jenna Ushkowitz (Tina)
"Happy" featuring Gwyneth Paltrow (Holly), Kristin Chenoweth (April), Matthew Morrison (Will), Darren Criss (Blaine) and Amber Riley (Mercedes)
"Party All the Time" featuring Gwyneth Paltrow (Holly)
"Be Okay" featuring Lea Michele (Rachel) and Naya Rivera (Santana)
"I Am Changing" featuring Amber Riley (Mercedes) and Chris Colfer (Kurt)
"Just Give Me a Reason" featuring Dianna Agron (Quinn) and Mark Salling (Puck)
*= New Season 5 version
Copyright 2014 ABC news Radio