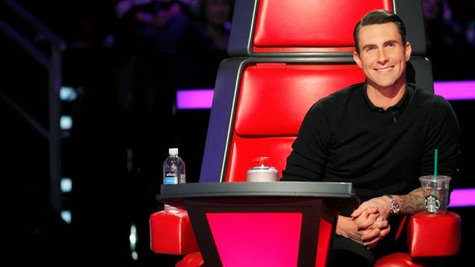 The Battle Rounds begin tonight on NBC's The Voice, but six seasons in, coach Adam Levine is still defending the hit show from accusations that it's flawed because it's failed to produce any chart-topping stars. According to Adam, selling as many albums as some American Idol winner isn't the only way contestants on The Voice should define success.
"People say, 'Oh, you have to be as big as so-and-so to be considered successful.' That's not true," insists Adam. "Y'know, millions of people are exposed to these singers every day, and someone can go home -- but they go home with millions of people knowing who they are. And that is a huge victory in a climate where it's impossible to get noticed 'cause there's so much competition."
"I love that about the show. I think it's a win for everybody," he adds. "I think The Voice has made a lot of people's dreams come true. The success factor really is all relative. I don't think that anybody has ever gone on The Voice in front of millions of people and not benefited from it in some way."
Tonight on The Voice , the members of all four teams will benefit from the all-star roster of advisers that each coach has brought in to help their singers. Team Blake will get help from The Band Perry , marking the first time that a group has served as a guest mentor. Team Usher has brought in R&B diva Jill Scott , while Team Shakira is metaphorically sleeping with the enemy: the person Shakira has chosen as her team's mentor is Miranda Lambert , Blake Shelton's wife.
"She's gonna help me take her man down. That's the pact," laughs Shakira. "I think she's just tired [of hearing] him brag around the house all the time: 'Oh, yeah, I won The Voice so many times.'" Adds Miranda, "The story's getting old. He needs a new game. We're sick and tired of the 'bromance,' so we've started a girlmance!"
As for Adam, he'll be working with a relative newcomer: Aloe Blacc , best known for singing lead on the Avicii global smash "Wake Me Up," and for his current hit, "The Man." Adam says going with someone who isn't a veteran is actually helpful for his contestants.
"Not only does he have, like, a great energy and he's really good at this naturally, what's cool is that [it's] not just bringing in, 'Oh, this person's a legend,' or 'This person's done so many things,'" says Adam of Aloe. "It's more, 'This guy's making it right now'...and that's really cool because the people on my team get to see this guy who's just making it big for the first time, in real time, in music. He's thriving and he's succeeding...which is really exciting, especially if you're an aspiring young singer."
Adam feels that the Battle Rounds are especially tough on the coaches, because after giving dueling contestants advice to help them both do equally as well, they have to then divorce themselves from what they saw in rehearsals and listen objectively to decide which one is better than the other.
"From my perspective, I have to kinda prepare them to do their best, but then I have to kinda be unprepared for what I'm gonna hear, 'cause I don't really know," says Adam. "And I think that you try to give them what they need, and then at that crucial point where you have to decide, it's like, 'OK, here we go.'"
"You have to forget about all the advice and not go based on whether someone improved or didn't, and go based on who is actually gonna win the battle round," he adds. "And that's hard."
The Voice airs Monday on NBC at 8 p.m.
Copyright 2014 ABC News Radio