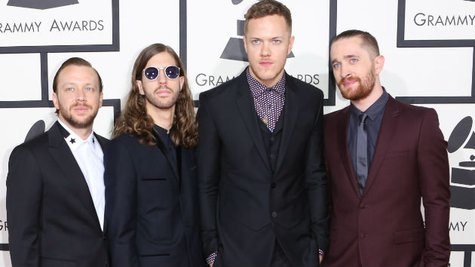 Grammy-winners Imagine Dragons just wrapped up a U.S. tour and are now heading to South America to play some festival dates. More festival dates are coming in July. That means that fans who are anxious for new music from the band will have to wait a little longer. It's not that the band doesn't have any new songs...it's just that they literally have no time to record them.

In a chat with Billboard , Dragons frontman Dan Reynolds says, "We still have a couple of important things before we step foot into any studio. We keep toying with the idea of taking a little bit of time off, which keeps sounding more and more appealing, but we're really bad at that."
The band reveals to Billboard that they've got demos for about 50 songs done, and Dan calls the new tunes, " definitely different," adding, "It's still Imagine Dragons, but we've got a lot of growth and maturing to do as a band."
Drummer Daniel Platzman , meanwhile, says they're not in any hurry to record their songs without any thought, just to get an album out.
"We all think making an album you can listen to from beginning to end is really important," says Daniel. "We took a long time to make sure [our current album] Night Visions was up to standard to us, and a lot of our favorite records growing up were that way. It's not like, 'Here's a song. Here's another song.' It's the album journey."
As for the pressure to follow up Night Visions , which produced hits like "It's Time," "Demons" and "Radioactive," Dan says it doesn't concern them.
"There's no pressure because we really have been so in our own bubble, on the road," he explains. "Honestly, I don't think any of the numbers mean anything to us. When people are like, 'The record went triple-platinum in Canada,' I don't think any of us comprehend that. It's like being in the eye of the hurricane."
"None of us got into music to be recognized or get a girl or anything like that," he adds. "We're doing music because we're unhappy if we weren't doing music."
Copyright 2014 ABC News Radio