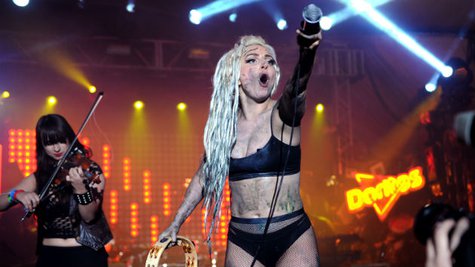 Lady Gaga has ended performances covered in blood, but Thursday night during her first-ever performance at the annual South by Southwest music festival in Austin, Texas, she ended her performance covered in vomit. But it was art, you see.
During her performance of the song "Swine ," Gaga was joined onstage by a woman who ingested colored liquids and then puked them all over the singer as Gags belted out the tune while flailing away behind a drum kit. Gaga was dressed in a black bra top and black boy shorts with a white apron over herself, and the apron quickly became stained with the "vomit." Then the woman and Gaga climbed on top of a mechanical bull -- which was actually a mechanical pig with an apple in its mouth -- and straddled each other suggestively while the bull began to move and buck. The vomiting continued as well.
The woman who puked all over Gaga is a so-called "Vomit Painter" named Millie Brown , with whom Gaga has been working for several years. The liquid she ingests is dyed soy milk, according to the British paper The Daily Mail .
Gaga's performance took place at the legendary Austin venue Stubb's BBQ, on a stage sponsored by Doritos.
Copyright 2014 ABC News Radio