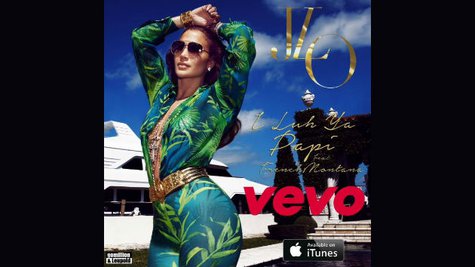 One of the most memorable celebrity fashion moments of the past 15 years was the time that Jennifer Lopez stepped onto the red carpet at the 2000 Grammy Awards wearing a green Versace gown with the world's most plunging neckline. Now, J-Lo revisits that look in the video for her new single, "I Luh Ya Papi."
In the video , Jennifer isn't wearing the gown, but she is sporting a very low-cut green jumpsuit with a similar print. "We didn't really even plan that," she tells People magazine . "The stylist just brought it on the rack and I saw it and was like, 'What's the jungle print doing there?' So it just kind of worked out."
In the video, Jennifer and her backup dancers are sitting on a couch, being pitched ideas for the clip by a guy from her record company. After rejecting ideas to film the video at a water park, a carnival and a zoo, her dancers point out that if J-Lo were a man, she'd be filming her video in a mansion or on a yacht, surrounded by half-naked girls. "Why do men always objectify the women in every single video?" asks one. "Why can't we, for once, objectify the men?" And that's exactly what happens in the clip.
Next thing we see is Jennifer sitting on a bed in a fancy house, wearing that low-cut jumpsuit, surrounded by half-naked male hotties. Then, the action moves outside, where she and her girls dance by the pool while those same guys wander around in skimpy bathing suits. J-Lo and the girls start objectifying the men by taking photos of them as they get in and out of the pool. They also get to ogle the super-hot dudes as they wash cars shirtless, and sunbathe on a yacht.
"We decided to flip the script," Jennifer tells People . "We were asking ourselves, 'Why do the guys always have the fun?' This video is for the girls!"
Copyright 2014 ABC News Radio