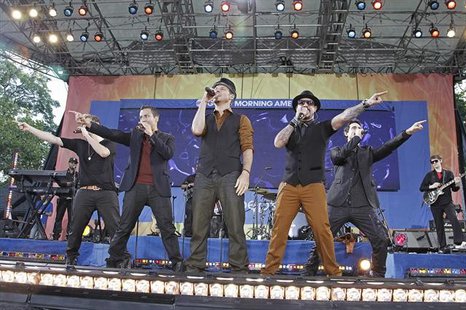 Backstreet Boys revealed some news on today's Good Morning America that's bound to change summer vacation plans for their fans. The group is adding some U.S. and Canadian dates to their ongoing "In a World Like This" world tour.
"We're coming back out on tour in the U.S. and Canada this summer," Kevin Richardson announced, with the rest of the band by his side, in a pre-recorded announcement from Norway, where they're on the road. "And guess what?" he added. "We're going to have special guest -- Avril Lavigne ," he revealed, with Brian Littrell chiming in.
Tickets for the show, including VIP packages, go on sale Friday, March 21, with the U.S. and Canadian dates kicking off May 3 in Moncton, New Brunswick. The band will make their first appearance in the U.S. on May 22 in Seattle, then head cross-country, wrapping June 22 in Jones Beach, New York.
The start gives the boys about a month to rest up after wrapping up the current European leg of their tour April 5 in Manchester, England. They're scheduled to return there in late June and early July for three more dates, after which they'll get another break before embarking on their four-day fan cruise, which begins October 24.
Avril's in the midst of her own South American tour , with the last four dates extending past the May 3 start of the BSB outing.
See dates and ticket purchase info for the U.S. and Canadian stops at BackstreetBoys.com .
Copyright 2014 ABC News Radio