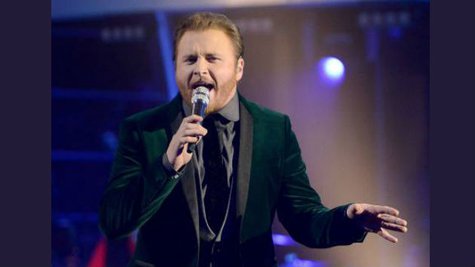 It's common on American Idol for the judges to encourage contestants to step outside the box and show different sides of themselves. But when one contestant did that this week, he was booted off the show. Now, Ben Briley , who was ejected from the competition Thursday night, is calling the judges out on their perceived hypocrisy.
Ben changed things up on Wednesday night by removing his ever-present ballcap, putting down his guitar and not performing a country song. Instead, he sat at the piano, wearing a suit and slicked back hair, and sang the Elton John hit "Bennie and the Jets." The judges criticized the performance, and Ben says he's not sure why.
"For one contestant, they'll say, 'You're consistent but we need you to change something up'...and then they'll say to somebody else, 'You need to stay in your lane' or 'You don't need to venture out,'" Ben told reporters Friday during a phone press conference. "And then when somebody finally does take a risk, and takes a big step forward in in trying to be different, in showing a different side, it gets shot down on national television."
Ben also says he felt that over the past few weeks, he'd been more heavily criticized than some of the other contestants who'd had -- in his mind -- weaker performances than he did. "Maybe [the judges] didn't like me as much as they thought they did," he told reporters.
While Ben acknowledges that it was the viewers who ultimately decided his fate on the show, he says that their opinion of his performance was colored by the judges' criticism, which he perceived as unfair.
"It was America that apparently got confused, and I think it was because of the judges' comments," he told reporters. "They, y'know, kinda just threw me under the bus and it really kinda confused people that way; their comments didn't help"
"I don't know what their beef was with me in the past two or three weeks," he continued, adding, "But I can assure you that it does not affect me at all."
Ben also feels he was let down in a way by Randy Jackson , this season's mentor, who he described as being nothing but supportive of his song choice and performance plans ahead of Wednesday night's show. On Thursday, however, Randy was singing a different tune.
"When he commented on Thursday's show, he said that I confused people; it was a complete 180 from what he actually told me," Ben told reporters. However, he described Randy as "a nice guy," and says he wished that the contestants could have had more mentoring sessions with him, because they only got to see him two or three times a week.
Ben says it was also disappointing that by being voted out at #11, he now will miss the chance to join the annual American Idol summer tour.
"That part does sting a little bit, but the good thing is that I won't be away from my wife for an extended period of time," he told reporters. Last year, the show decided to let America vote to add an 11th contestant to the tour, choosing among selected booted contestants, but Ben says he hasn't heard anything about that this year...at least not yet.
American Idol continues Wednesday night on Fox.
Copyright 2014 ABC News Radio