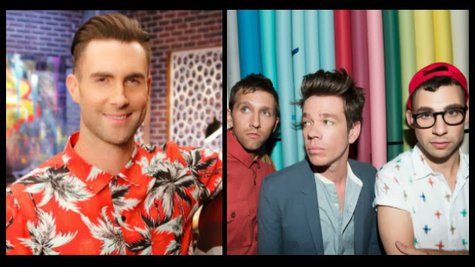 Sure, Maroon 5 frontman Adam Levine loves his own band, but he's also a big fan of other artists. In fact, he's quick to give the title of "Coolest Band Around" to one act in particular: fun.
In a video preview of next week's Voice posted by Entertainment Tonight , Adam and the guest mentor for his team, Aloe Blacc , discuss their favorite performers on the charts today. Both mention rapper Kendrick Lamar as someone they admire, but then Adam says, "I love the fun. record...being in a band, you look out for other bands, and I think that's -- to me -- the coolest band around."
"They do this amazingly weird hybrid of so many different things," Adam raves. "I love his voice. [fun. frontman] Nate [ Ruess' ] voice is incredible. The songwriting is amazing, really different."
When Aloe then mentions that his career goal is to make it into the Songwriters Hall of Fame, Adam jokes, "I'll be in that Hall of Fame, too. And whoever gets in first will induct the other one. I'll make that deal right now!"
You can see Adam and Aloe working together with Team Adam starting Monday night on NBC's The Voice.
Copyright 2014 ABC News Radio