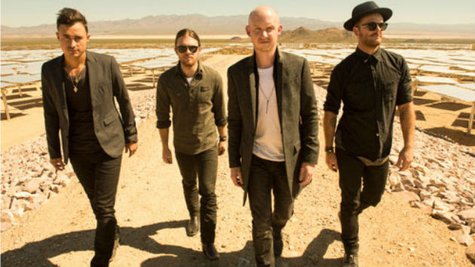 The Fray has three things to celebrate right now: the release of their new album Helios , which debuted in the Billboard top 10; the recent arrival of their drummer Ben Wysocki 's baby girl, and the impending arrival of singer Isaac Slade 's first child, which is due later this month. Of course, any touring musician who has a baby has to figure out how to fit parenthood into his or her busy life, and Isaac is no exception.
"I reserve the right, certainly, to duck out if I get that phone call, but, it's OK," he tells ABC News Radio, referring to the fact that his pregnant wife is waiting at home while he travels around with the band promoting Helios . "We've been married for...almost eight years, and we've waited [to have kids] because we've both known that the single parent reality will be hers for, you know, however much we travel -- usually it's about six months a year. So, we've been waiting, we've been preparing and getting ready for it. We feel as ready as we can be."
Isaac has also sought advice from his band mate, guitarist Joe King , who has two daughters. He says Joe told him something that really stuck with him: that when it comes to the wife staying behind while the husband goes on tour, it's "harder for the person who leaves than the person who stays home."
"The person who stays home gets in a groove, they got all their stuff everywhere, they know where their coffee mug is," Isaac explains. "But the one who leaves is the one that actually misses out on the kid growing up and stuff." To that end, he says he's also gotten advice for a few veteran musicians he won't name.
"I've really purposefully befriended some guys who've done the 20-records, 30-years, four-kids deal, and, all of them say the same thing," Isaac tells ABC News Radio, "Like, 'You bring the kids as much as you can when they're young and then you just get the hell home as many times as you can in between shows.'"
The "birth" of the Fray's new album Helios , meanwhile, also represented a big step for the band, since they decided to change up their sound by enlisting the aid of producer Stuart Price , known for the cutting-edge electronic sounds he's brought, most notably, to some of Madonna 's recent albums.
"For us, I think just creatively, we had to approach it differently and innovate...just to be excited about what you're doing instead of doing the same thing," Joe explains. "But now, it's like...'[The] baby's out...is the world gonna embrace this new-looking baby?' It doesn't look like us. It's not the 'dramatic' Fray."
Guitarist Dave Welsh jokes, "It doesn't look like either of the parents. It's like, 'Where'd the baby come from? I don't know.'" "Exactly," laughs Joe, "This is that kid. It's like, 'We don't know where that one came from!'"

Copyright 2014 ABC News Radio