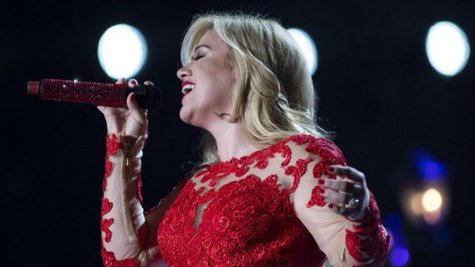 Kelly Clarkson 's got a bun in the oven, but that's not the only thing she's got going on: she's also working on a new album that's set for release later this year. And to hear one of her recording engineers talk, the new music will be a little different from what we've come to expect from the Grammy-winning singer.
Jesse Shatkin , a songwriter, producer and recording engineer who worked on Kelly's 2011 album Stronger and her 2013 holiday album Wrapped in Red , is also working on her new album. He tells the website MuuMuse that the songs she's choosing sound "a little left-of-center and cool."
So exactly how left-of-center are we talking about? "One of [the songs] is kind of an electronic banger, but it has kind of a haunting melody that I think she was attracted to," says Shatkin, adding that Kelly's "really open-minded" when it comes to trying out new sounds.
The new album, when it's released, will be Kelly's official follow-up to Stronger . It remains to be seen which one will emerge first: the album or Kelly's baby girl, who she's expecting with husband Brandon Blackstock . She recently tweeted , "Okay my baby is moving like crazy in my belly this morning. Such a cool yet weird feeling."
Copyright 2014 ABC News Radio