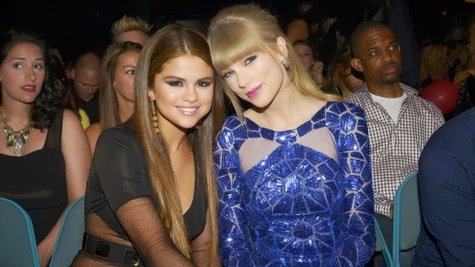 It's been reported numerous times that Taylor Swift didn't approve of Selena Gomez 's relationship with Justin Bieber , though that's never been confirmed. Now, there are rumors that Taylor has "cut off" Selena because she's reunited with Justin, but a friend says the story isn't true.
Us Weekly magazine claimed that Taylor is "disgusted" that the two have reunited, and has distanced herself from Selena. The mag also claims that Taylor thinks Selena had a fling with her other good pal, Ed Sheeran , last year, just to make Bieber jealous. The Ed/Selena hookup rumors have previously been denied, though, and now a friend of Taylor's tells E! Online that the "cut off" rumor isn't true either.
"She has not cut her off," says the pal, adding that Taylor will "always be there" for Selena, who she thinks of as "a little sister."
Of course, that doesn't mean that Taylor has to like Justin. Who could forget her look of disapproval when Selena and Justin kissed backstage at the Billboard Awards last year?
Copyright 2014 ABC News Radio