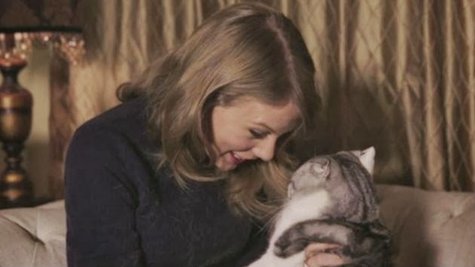 Taylor Swift is up for multiple trophies at next month's Academy of Country Music Awards in Las Vegas, and she's created a hilarious new video that campaigns for votes -- while making it appear as though she has no interest in doing so.
In the video , Taylor's record label president, Scott Borchetta , calls her to ask her to make a video asking for votes, but she puts on him hold, saying she's in the middle of something "pretty pressing." While he waits, she does her nails, gives a girlfriend advice about how to deal with an evil ex-boyfriend, and cuddles her beloved cat, Meredith , whom she calls "The Princess of Kittytown."
"Where's the Princess of Kittytown? Who's a pretty kitty? You are! You're so pretty, you're the prettiest kitty in the world!" gushes Taylor to Meredith, while Borchetta, till on hold, grumbles, "If I didn't know better, I'd swear she's playing with that f***ing cat." Eventually, Meredith stretches out a paw and disconnects Borchetta.
At the end of the video, Borchetta checks "Make ACM video" off his to do list and smiles, as the categories Taylor is nominated in flash onscreen. See if she wins when the ACM Awards are broadcast live from Las Vegas on Sunday, April 6 on CBS.
Copyright 2014 ABC News Radio
)