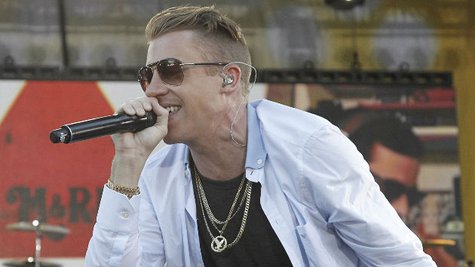 Apparently, it's not enough for Macklemore to simply entertain us with his music: he also has to instruct his male fans on how to conduct themselves in the bathroom. The rapper, born Ben Haggerty , has posted an instructional video on Instagram encouraging men to stop peeing on the toilet seat. Yes, really.
In the brief video, Ben sings in a phony dancehall-reggae accent about lifting up the toilet seat before you go and wiping things down afterward. "Wipe the basin clean/clean the pee pee/and now my girlfriend won't be mad at me," he sings, with a goofy grin on his face. But it's the caption he wrote for the video that really hilarious.
"ITS TIME THAT US MEN STARTED RESPECTING TO THE BASIN THAT OUR QUEENS SIT ON!," he wrote in all caps. "LETS RAISE THE NEXT GENERATION TO HAVE BETTER AIM SO WOMEN DONT HAVE TO PEE & POOP ON OUR PEE!"
He goes on to say, "BUMP THIS [VIDEO] IN ALL AIRPORT BATHROOMS AND FOOTBALL GAMES!" and lambasts "A DRUNK DAD" for "PI**ING ON THE GROUND," and "A FRAT BRO TOO HAMMERED TO HANDLE HIS DANGLER."

In conclusion, the Grammy-winning rapper writes, "MAN UP AND LEARN DONG CONTROL!...IM OUT!!!"

Copyright 2014 ABC News Radio