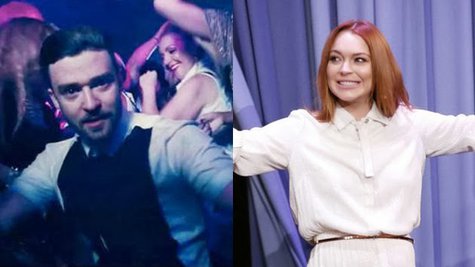 Hearing that Lindsay Lohan may have bedded some big-name Hollywood actors isn't that shocking, but the news that she might have romanced some A-list musicians is somewhat more surprising.
In Touch Weekly claims to have obtained a list, written in Lindsay's own hand, of 36 men she supposedly slept with. A source tells the magazine that Lindsay jotted down the list at the Beverly Hills Hotel on January 30 while she and some friends were "giggling and talking s**t about people in the industry."
"It was her personal conquest list," added the source, noting, "She was trying to impress her friends with the list and then tossed it aside."
While many names on the list -- which the magazine has printed -- have been redacted, it includes Adam Levine , Justin Timberlake and Guy Berryman , the bass player from Coldplay. It also includes Max George from The Wanted , but that's not a big surprise, considering how much time the two spent together in the past, and their acknowledged friendship.
Other names on the list range from Joaquin Phoenix and Zac Efron , to James Franco and Wilmer Valderrama , to Colin Farrell and the late Heath Ledger .
"They're not all single guys," an insider told the magazine of Lindsay's list. "This getting out now could rock several Hollywood relationships to the core." Justin Timberlake is, of course, married to Jessica Biel , and Adam Levine is engaged to model Behati Prinsloo . Mind you, if the list is legit -- and factual -- the liaisons could have occurred while all parties were unattached.

Of course, it's possible that the entire thing is a big misunderstanding, and Lindsay was simply making a list of guys she'd like to get with, but hasn't. A source who has seen the list tells ABC News Radio that some of the redacted names are other A-list celebrities.
Copyright 2014 ABC News Radio