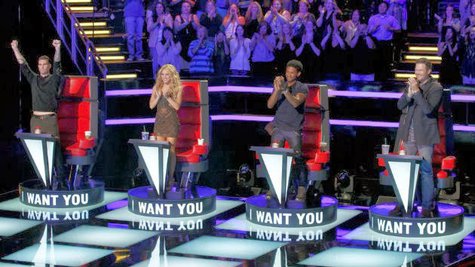 The final week of the blind auditions on The Voice began Monday night. Adam Levine , Blake Shelton , Shakira and Usher sought to fill the few remaining slots on their respective team.
Here are the highlights of the two-hour episode:
First up was Kat Perkins , who sang Fleetwood Mac 's "Gold Dust Woman." Adam, Shakira and Usher pressed their buttons. Usher referred to Kat as a country singer, which Adam called into question by asking her if she's a rock artist, given her song choice. She said yes. Kat joined Team Adam.
Paula DeAnda has some experience in the music biz. She was once signed by Clive Davis , scored a minor hit with "Doing Too Much," and recorded two albums in English and Spanish, only one of which was released. She's also toured with Rihanna . Paula tackled "The Way," by Ariana Grande , with Shakira and Blake making a bid for her talents. Adam called Paula's decision a no-brainer, presumably because Shakira and Paula both speak Spanish. However, Blake got his hopes up when he found out Paula is from Texas, which borders his native Oklahoma. Paula proved Adam wrong by picking Blake as her coach.
Shakira, Usher and Adam all turned around for Jake Barker , who crooned Bruno Mars ' "When I Was Your Man." Jake revealed his audition was the first time he'd ever performed on a stage. He teamed up with Usher.
Ria Eaton was added to Team Blake after singing Anna Kendrick 's Pitch Perfect hit, "Cups (When I'm Gone)."
Cierra Mickens belted out "Crazy," by former Voice coach Cee Lo Green 's duo, Gnarls Barkley . Shakira, Blake and Usher all pressed their buttons, though Blake unsuccessfully argued that Usher turned around after the performance ended. Shakira walked onto the stage to have a "girl talk" with Cierra, telling her she believes in her. It worked, because Cierra selected Shakira as her mentor.
Best friends Alaska & Madi covered "Barton Hollow," by The Civil Wars . They're from Oklahoma, which obviously appealed to Blake and gave him the edge over his friend Adam. The duo joined Blake's crew.
Ddendyl , whose father can play several instruments, such as the flute-like ocarina, delivered a soulful version of the Ben E. King classic "Stand By Me." She's teaming up with Shakira.
Josh Kaufman had his choice of all four coaches after singing George Michael 's "One More Try." Blake said Josh was incredible. Shakira added that she would love to work with an artist as mature as Josh is. Adam pointed out how quickly he turned around. Josh selected Adam as his mentor.
The blind auditions conclude Tuesday night at 8 p.m. Eastern time on NBC.
Copyright 2014 ABC News Radio