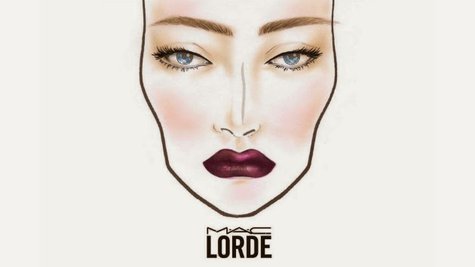 Lorde has gotten almost as much attention for her signature dark lipstick as she has for her music. Now, the 17-year-old Grammy winner is teaming with M.A.C. to launch her very own makeup line.
The New Zealand Herald reports that Lorde will release a limited-edition collection of makeup in June; she's been working on it since last year with M.A.C. senior artist Amber Dreadon . Dreadon is traveling on tour with Lorde as her makeup artist, and working with her to design her tour looks. They also collaborated on Lorde's looks for the video for "Team," and for her Grammy and Brit Awards appearances.
In a statement regarding the partnership, Lorde says, "I have loved M.A.C Cosmetics since I was a little kid. I remember saving up to buy my very first M.A.C lipstick [Snob] at 14, and it was used by about 20 of my friends!"
"M.A.C. has a very clear aesthetic, that has always felt fashion forward to me," she adds. "So I was really excited to work with them on these products, which I use pretty much every day and night. I hope you will too."
Dreadon, meanwhile, says, "One of the great things about Lorde is that she is accessible and relatable to people her own age; her look and style are a testament to just that."
The new makeup line will be available at all M.A.C. stores in the singer's home country of New Zealand, but also at MACcosmetics.com and at select stores around the world.
Copyright 2014 ABC News Radio