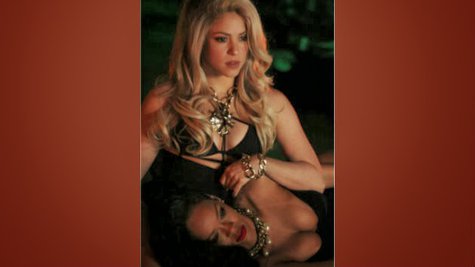 Shakira 's video with Rihanna , "Can't Remember to Forget You," features plenty of steamy scenes between the two women. In fact, it was so racy that Shakira admits she actually asked her boyfriend for permission to film it.
"He's very territorial, and since he no longer lets me do videos with men, well, I have to do them with women," she laughs in her new Billboard magazine cover story . "It's more than implied in our relationship that I can't do [sexy] videos like I used to. It's out of the question." But Shakira says she doesn't mind.
"I like [it]," she tells Billboard. "I like that he protects his turf and he values me, in a way that the only person that he would ever let graze my thigh would be Rihanna."
Shakira's boyfriend, soccer star Gerard Pique , is also the father of her son, Milan. She says now that she has them in her life, she sometimes finds it hard to balance being a global superstar with her desire to be a loving partner and a mom.
"Sometimes I yearn to stay at home with Gerard and Milan," she tells Billboard. "For so long I decided to have what I have now, this family, that it's logical for me to feel divided. A part of me -- well, all of me -- wants to be with them all the time and be a housewife. But there's another part of me that still wants to make music and that's still pleased with success. I won't deny it. I know it sometimes sounds almost immoral to admit you like success, but I like it. I like it."
Shakira met Pique in 2010, when he was 23, and she was ten years older. One of the songs on her forthcoming self-titled album, "23," is about him, and at the end, you can hear a laugh from Milan, who wandered into the studio while she was recording the song.
Shakira's new album will be out March 25.
Copyright 2014 ABC News Radio