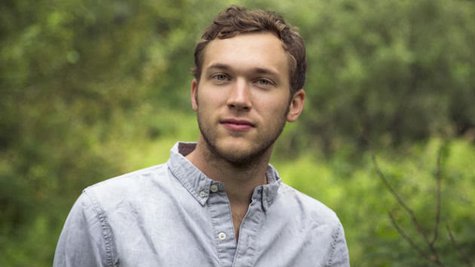 Phillip Phillips debuted his new single, "Raging Fire," on American Idol last Thursday, and he says the tunes on his upcoming sophomore album -- all written by him -- run the gamut of emotions.
Phillip wrote or co-wrote nine songs on his debut, The World from the Side of the Moon , but he says on the upcoming disc, he had a hand in writing "everything." Describing the material, he tells ABC News Radio, "It's a little heavier, a little darker, but there's also songs that are sweet and, y'know, lovey, for everybody who's in love and wantin' to feel the love."
"I like it a lot. I'm excited for everybody to hear it," he adds. So far, there's no title or firm release date for the album. The World from the Side of the Moon went platinum and produced two hits: "Gone Gone Gone" and "Home," which has sold five million copies, and is the best-selling track by any contestant in American Idol history.
While we wait for more details on the album, Phillip kicked off a headlining tour of Canada over the weekend, and he says he's learned some valuable lessons about performing live from the past year, which he spent on the road with Matchbox Twenty and John Mayer.
"Keep losing yourself in the music" is what the singer took away from his time opening for those two acts. By that, Phillip means that he has a tendency to be too worried about making mistakes during a show, when he should just be enjoying performing for the folks who've paid money to hear him.
"It's hard for me to think, like, '[It's] OK, they're here to see me.' I don't think that way," he tells ABC News Radio. "I'm like, 'All right, I can't screw up.' But I gotta calm down for a minute, 'cause...they're comin' to the show, [and] they just need to have some fun. So that's what I gotta remember."
While he's been given advice from veteran artists, Phillip's now established enough as an artist in his own right that he's in a position to give advice as well. "I talked to the contestants for a minute, and they were really nice," Phillip says of his return to the Idol stage last week. "I told 'em to enjoy and have fun, and just, you know, be themselves."
It's good advice from the guy who became the American Idol season 11 champ mostly by doing exactly that.
Copyright 2014 ABC News Radio