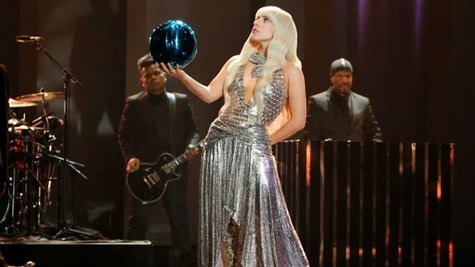 Lady Gaga is about to add another milestone to her long list of career accomplishments: this week, she'll be the youngest artist ever to be the keynote speaker at the annual South by Southwest Music Festival, which gets underway Tuesday in Austin, Texas.
South by Southwest, one of the world's biggest music industry events, features thousands of musical performances, as well as panels and talks on the future of the music industry. Gaga's keynote conversation will take place the morning of Friday, March 14 at the Hilton Austin-Downtown, and will be led by John Norris of Fuse. The night before, Gaga will make her South by Southwest performance debut at the legendary venue Stubb's Bar-B-Q, with proceeds benefiting her Born This Way Foundation.
Gaga, who'll deliver the keynote a few weeks before her 28th birthday, is by far the youngest person ever to enjoy this honor. Previous keynote speakers at the festival have traditionally been music icons such as the late Johnny Cash , Bruce Springsteen , Led Zeppelin frontman Robert Plant , Neil Young , Pete Townshend of The Who , Ray Davies of The Kinks , Motown legend Smokey Robinson , rock and roll pioneers Carl Perkins and Little Richard , super-producer Quincy Jones , and two formers members of Nirvana .
Gaga is also one of the few women ever tapped for this role. Since the festival began in 1987, there have only been four female keynote speakers, and there hasn't been one since 1999.
Copyright 2014 ABC News Radio