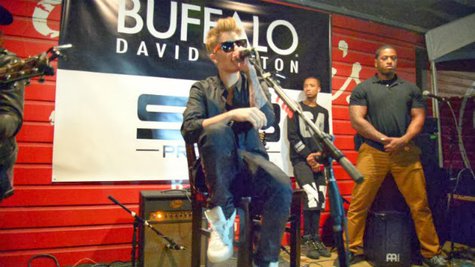 Over the weekend, Justin Bieber made headlines apparently reuniting with his ex-girlfriend, Selena Gomez . But he'd much rather you notice that he also jumped on stage for an intimate acoustic performance.
Justin tweeted YouTube footage of himself performing at an event his manager, Scooter Braun , organized Sunday at the South by Southwest Music Festival in Austin, Texas. The event, called the Scooter Braun Projects Sunday Funday Showcase, featured performances by a variety of acts, including Justin. "So yeah had to show up and surprise the crowd night at the #SBPSundayFunday," he tweeted . " U thought I wouldn't? :)"
"Fun taking the stage with all the other acts. Great people. Had to do a little acoustic set myself. Maybe I should do another one? ;)," he tweeted .
Justin performed acoustic versions of "Girlfriend," and "As Long as You Love Me" at the event and along with a link to the performance footage, he wrote , "THIS IS WHY I DO IT! Not for headlines but for the fans, for the music! For #mybeliebers . This is what is real! :)"
It was relatively easy for Justin to get to Austin, since he'd already spent Friday and Saturday in a different part of Texas with Selena. He didn't acknowledge that on his Twitter feed, however.
Copyright 2014 ABC News Radio