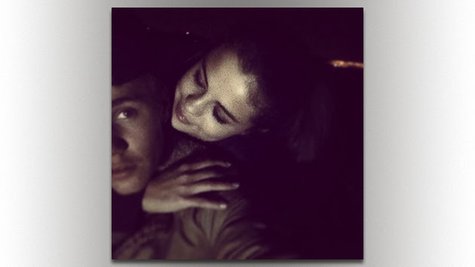 The Justin Bieber / Selena Gomez reunion tour of Texas continued over the weekend. After the two singers were spotted having breakfast together Friday morning in McAllen, Texas, the two were then seen all over the area engaging in a variety of activities.
The McAllen Monitor reports that on Friday evening, Selena and Justin went to a dance studio in McAllen, where the facility's owner says they spent two hours practicing dance moves in a private room. The owner says he didn't charge the couple for the time, telling the Monitor, "It was an honor for them to be there at my dance studio."
On Saturday afternoon, Justin and Selena turned up at Xtreme Lazer Tag in town, and asked the marketing manager if they would shut the place down so they and their entourage could play. He agreed, and Justin, Selena and eight other people played for an hour and a half. "They seemed really happy," the manager, Ruben Elias , told the Monitor , while another employee claims the two singers were seen kissing in the shadows.
Justin won the match, and also bought the facility's entire supply of Sourpatch candy sticks. The total bill for the session was about $650, which Justin paid for on his credit card.
Though the couple had reportedly visited a local mall on Friday, Elias said that they told him they weren't there. The rumor, however, caused a mob scene that forced police to shut down the mall.
Justin and Selena were thought to be officially broken up in January of 2013, but the two were seen together riding Segways in January of this year. A few days later, Selena entered a wellness program at a facility in Arizona. Rumor has it that the emotional stress of her relationship with Justin had contributed to her seeking treatment, but that has never been confirmed.
Copyright 2014 ABC News Radio