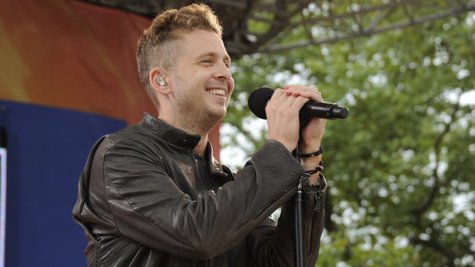 Just when you thought that the list of artists who Ryan Tedder 's worked with couldn't possibly get more impressive, word now comes that he's producing the upcoming album by U2.
Billboard reports that the OneRepublic singer, whose production and songwriting credits already include hits from Adele , Beyonce and Kelly Clarkson , is one of several producers who are toiling away on the superstar band's latest project, which has now been pushed to 2015. Another name in the mix is Paul Epworth, who, like Ryan, worked on Adele's smash 21 . Overseeing the project is Danger Mouse, who is perhaps best known as the other half of Gnarls Barkley -- the guy who isn't Cee Lo Green .
According to Billboard , enlisting Ryan and Epworth may be an attempt by U2 to remain relevant in today's music scene, which is something that frontman Bono seems to be very concerned about. He told The Hollywood Reporter in February, "To be relevant is a lot harder than to be successful."
As for why Bono turned to Ryan, well, his track record certainly counts for something, but it turns out that OneRepublic goes back a ways with U2: they opened for the band in 2010. Speaking to Billboard in October, Ryan recalled some songwriting advice that Bono gave him.
"He said, 'I feel a responsibility to actually write and sing about things that have a level of human gravity to them.'" He then added, "I have a feeling I'll be around [Bono] a lot more in the coming years."
Copyright 2014 ABC News Radio