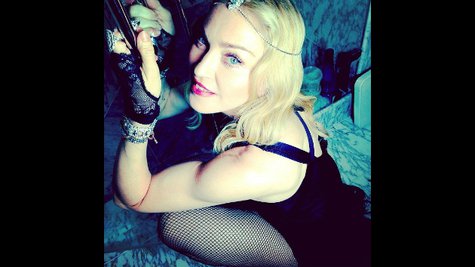 If you love the song " Wake Me Up " by Avicii , then you'll probably like Madonna 's new album. The Queen of Pop confirmed that the two are collaborating on new music.
On Instagram, Madonna posted a photo of herself crouching down in what looks like a marble bathroom. She captioned the photo, " Doing some house work before heading to the studio with Avicci! #artforfreedom #clean."
She misspelled Avicii's name in her caption, but hey, she's Madonna. She doesn't have to worry about little things like spelling, right?
Swedish producer and deejay Avicii, whose birth name is Tim Bergling , not only gave us the hit "Wake Me Up" -- which features uncredited vocals from Aloe Blacc -- but he's also responsible for the follow-up, " Hey Brother ." It's not such a big surprise that he and Madonna are collaborating, since she's a big fan of working with the hottest dance music producers around.
Last month, Madonna told The Vancouver Sun that "plans are in the works already" for new music, adding, "Don't ask me with who, it's a secret, top secret." When a new album does emerge, it'll be the follow-up to MDNA , which came out in 2012.
Copyright 2014 ABC News Radio