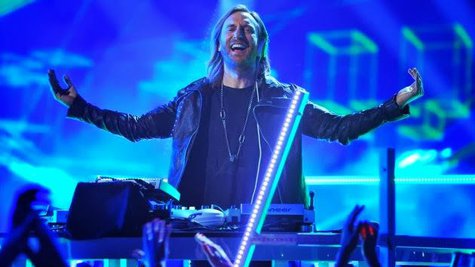 These days, David Guetta is as much a pop star as he is a deejay, and spends most of his time headlining festivals or playing arenas. But the French producer will be performing in a more intimate setting this year in Las Vegas.
David has announced a residency at XS nightclub , located at the Wynn Las Vegas Hotel and Casino. It kicks off Friday night and will continue throughout the year. Announced dates so far are March 14, 21 and 26, and April 5 and 12.
In a statement, Guetta said, "It's rare I get to play clubs these days...I love the feeling playing to tens of thousands, but there is something really magical being so close to the crowd. Seeing the whites of their eyes; partying together." He added, "The scene in Vegas is hot -- and there was only one choice for me when choosing a residency: XS. It's gonna rock!"
David's collaborations with artists like Usher , Sia , Black Eyed Peas , Flo Rida , and Nicki Minaj has resulted in hits like "Without You," "Titanium," "I Gotta Feeling," "Club Can't Handle Me," and "Turn Me On."
Copyright 2014 ABC News Radio