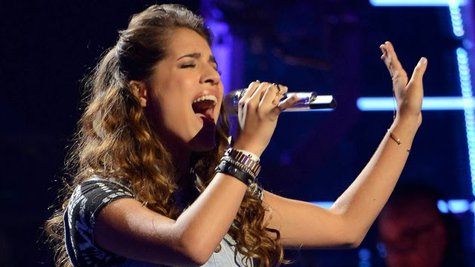 Thursday night, Emily Piriz became the latest contestant to be voted off American Idol , but she has no hard feelings. In fact, the 18-year-old singer from Florida told reporters on Friday that she's tried all the other singing competition shows, and Idol's the best.

Turns out that before we ever saw her on Idol, Emily had already tried out for the show once before and failed. She also said she tried out for The X Factor three times, The Voice "three or four times" and America's Got Talent "three or four times." It was based on all that experience that she told reporters, " Idol to me is as good as it gets. You know, it's the best of the best."

"It's the original and everyone is a huge family," she explained. "It's been on for 13 seasons. And it's almost all the same crew members, staff people, I mean, everyone's so close and they treat us like family. They really do. It's amazing."

Emily says that even though she was "said 'no' to a lot," she "never gave up." "Look at me now," she told reporters. "You just have to keep practicing and keep going. I mean, when I was 13 is when I started auditioning for shows, and I'm 18 now. So, it takes a while, but you can get there. You just have to believe in yourself."

Emily also told reporters that this year's official American Idol "goodbye" song -- the song played when contestants leave the show -- is actually Kelly Clarkson's "Breakaway." She said each contestant has recorded their own version of the song, which will play over their farewell video package.
Copyright 2014 ABC News Radio