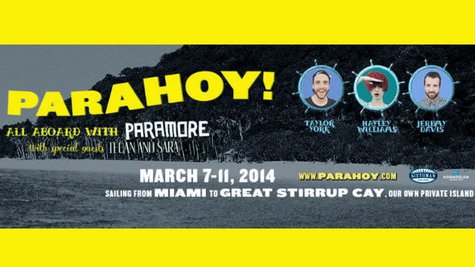 Paramore is the latest band to set sail on a fan cruise. Their first one, Parahoy!, departs Friday from Miami aboard the Norwegian Pearl, and according to the band, fans who are joining them for the four-day floating festival can expect lots of music, fun, food and even manicures.
"We have a few different activities arranged. I know there's gonna be being able to get your nails done with Hayley , [and] some bowling parties," guitarist Taylor York tells ABC News Radio. "It's just gonna be fun."
Wait, nails? You'll be able to get a manicure with Paramore frontwoman Hayley Williams ? "Yeah, that's really happening. I'm a little nervous," laughs Hayley. "What's it gonna be like? I've never gotten my nails done with a stranger!"
"But maybe they won't be a stranger," the singer muses. "Maybe by the end of it we'll be, like, best friends!"
That's the way that Taylor envisions things going. " We just want it to be mellow and just have everyone be on a big vacation together," he tells ABC News Radio. "We're gonna play some shows. We're gonna eat way too much food. We're gonna do everything you do on a cruise and then we're gonna play a rock show at the end of the night. So, it's gonna be super fun!"
In addition to Paramore, the cruise will also feature performances from Tegan and Sara, as well as the bands Newfound Glory and Shiny Toy Guns. A Q&A with Paramore is part of the fun, as well as theme nights: there'll be an '80s Night, a "White Out" night, when everyone wears white, a pajama party night and, finally, there will be a "Paramore prom."
It all sounds like such a blast that surely the band will do this again next year? "I don't know. I mean we'll have to see how it goes," Hayley tells ABC News Radio. "We're really excited for it. We've never done anything like this before and we wanted to do something different. So, if it goes really well, then, I mean, we'll try anything twice!"
When they return from their cruise, Paramore will play a show in Puerto Rico and then prep for their massive summer tour with Fall Out Boy, which kicks off July 6.
Copyright 2014 ABC News Radio