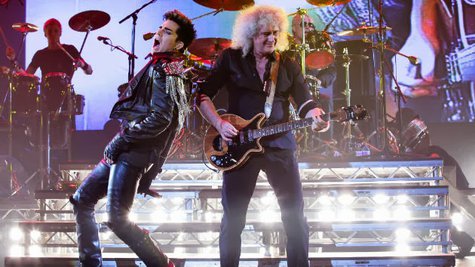 Adam Lambert 's been pretty busy lately, appearing on Glee and serving as a mentor for American Idol. Now, he's just announced a big summer tour with legendary British rock group Queen , who he's been performing with on and off since the 2009 Idol finale. But what about some new music from the singer? Adam says it's coming, and he believes the tour with Queen will help make it even better.
"I'm working on music now. I've been in Sweden the last couple weeks, and I'm working on stuff, figuring it out," he tells ABC News Radio. "And what's beautiful is that this is kind of a side-by-side thing. I mean, the fact that I get to jump over and do a tour with Queen -- like, the Queen -- not only is it going to be exciting to kind of step away from my creative process a bit, but I think it'll inform it."
"I learn something every time I'm on stage with these guys," he explains, referring to Queen members Brian May and Roger Taylor . "So I think that it only makes me a better performer, and a better writer. And seeing these fans of this band -- it inspires me."
There's no doubt that touring with Queen will make Adam a better performer: it'll be the first time he'll be headlining in huge arenas, like Madison Square Garden and the L.A. Forum. Of course, Queen regularly played those venues during their heyday in the '70s and '80s.
"This will be my first time at the Garden, and my first time at the Forum, and that's what's one of the very exciting things about working with these amazing gentlemen is that they have so much under their belt. They've experienced so much and I feel like I'm learning every time we're on stage together," he tells ABC News Radio. "To go back to something that feels nostalgic for them, and a first time for me, I think, will be really magical on stage. I think that's kind of the beauty of this whole adventure."
Certainly, the prospect of fronting a legendary, much-beloved rock band whose late lead singer -- Freddie Mercury -- is considered to be one of the best vocalists in rock history -- is daunting. In fact, Mercury was one of Adam's own personal idols, long before he ever met the guys in Queen. But he says he knows how he's going to approach singing classics like "We Are the Champions" and "We Will Rock You" every night.
"One of the things that I always try to do is not to mimic [Freddie Mercury], because I feel like that would be a bit disrespectful, but more to pay respect, and to just bring the songs to life in an honest way," he tells ABC News Radio. "I've had the greatest teacher, to hear and learn these songs, but trying to make them my own, I think, is important."
One thing is for sure: Queen fans and Adam fans both want to see this pairing. Queen's Brian May tells ABC News Radio that he's been hearing from fans on social media, and the response has been nothing but positive.
"I see 'em already on Twitter, y'know, it kind of makes me laugh," he says. "It's like, 'We need QueenBert!' From Argentina, from Tierra del Fuego, from Beijing...the whole world wants us to be together, I think, which is great!"

Queen + Adam Lambert will kick off their tour June 19 in Chicago.
Copyright 2014 ABC News Radio