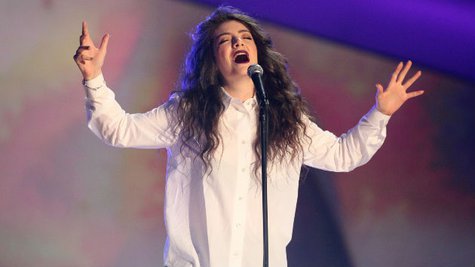 Lorde is fond of referring to herself as "weird" and she says that applies to her current U.S. headlining tour as well.
Speaking to the Wall Street Journal about how her live shows compare to those of other contemporary pop artists, the 17-year-old singer insists, "I'm too weird as a performer to copy anyone else. I kind of thrash around [on stage]. It's unsettling to look at. But I can't dance."
Despite her unique performance style, Lorde has been receiving great reviews for her tour, which just kicked off this past week in Austin, Texas. Rolling Stone , which put Lorde on its cover not long ago, praised the "power and conviction" in her "short but strong" set on that opening night.
Despite all her success, Lorde continues to be an interesting mixture of supreme confidence and insecurity.
Speaking about songwriting, she tells the Wall Street Journal , "I'm afraid I'll wake up one day and it'll be gone. I still ask myself: Is my life interesting enough to write about?" Yet, she also tells the paper, "If you believe in yourself, you think what you've done is all right. And then other people might think it's all right too."
Copyright 2014 ABC News Radio