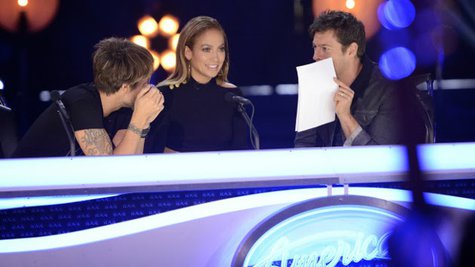 American Idol 's top 12 returned to the stage Wednesday night to again perform for viewers' votes. This time, they had to choose songs that reminded them of home.
Jennifer Lopez , Keith Urban and Harry Connick Jr. were on hand to offer their critiques of the contestants.
Here's what happened on the two-hour performance show:
Seventeen-year-old Jena Irene , who hails from Farmington Hills, Michigan, sang the KT Tunstall hit "Suddenly I See." Keith and Harry both encouraged her to loosen up a little more on stage. J-Lo said that no matter which song Jena chooses, she shows off a uniqueness in the tone of her voice.
Mont Vernon, New Hampshire's Alex Preston performed a slightly-stripped-down version of Gavin DeGraw 's "I Don't Want To Be." Jennifer thought the arrangement overpowered his vocals. Harry agreed, though he admired the fact that Alex tried to be more creative this week. Keith felt the new arrangement may have shaken Alex's confidence a little.
Jessica Meuse of Slapout, Alabama, played Dido 's "White Flag" on her acoustic guitar. Harry said she's usually like a "laser beam" with her vocals, but this time she was off. Keith had a different take -- he said as long as Jessica sings the lyrics as if she truly believes in them, her pitch won't matter as much.
Dexter Roberts , from Fayette, Alabama, tackled "Lucky Man," by Montgomery Gentry . Keith called it the perfect song for Dexter. He also said Dexter showed off a vulnerable side during a moment when he either forgot a lyric or the arrangement was off. Harry said it was a great performance.
Emily Piriz of Orlando, Florida, paid homage to her heritage as a Latina -- and to Jennifer Lopez -- by performing "Let's Get Loud," which she used to sing into a hairbrush as a child. J-Lo said it was a pleasure to hear someone choose her song. Harry suggested that she needed to bring more energy to the stage. Keith loved it, but he urged her to be more confident.
Caleb Johnson , who was born and raised in Asheville, North Carolina, rocked out to "Working Man," by Rush . Harry called him the most consistent singer on the show, but wondered if Caleb's becoming too predictable. Keith praised him as one of the best singers he's heard in a long time, and that it was a challenge for Caleb to take on a "band song." Jennifer said she'd been waiting for a performance like that one all night.
San Francisco's MK Nobilette played an acoustic version of "Drops of Jupiter" from Train , which is native to her city. Keith advised her to work on the connection between how she looks and how she sings. Harry said MK appeared to be uncomfortable, and it made her look as if she doesn't want to be on the show.
C.J. Harris of Jasper, Alabama, covered John Mayer 's "Waiting on the World to Change." J-Lo said she enjoyed hearing C.J. singing about changing the world. Keith wanted him to make the song his own.

Sam Woolf , who lives in Bradenton, Florida, selected "Just One," by Blind Pilot . The panel seemed to think he didn't deliver the breakout performance that's required at this stage of the competition.
Malaya Watson of Southfield, Michigan, took to the piano for Tamela Mann 's gospel song "Take Me To The King." Keith was unfamiliar with the song but he was moved by it. J-Lo said she had tears in her eyes because she was so proud of Malaya. Harry said she was in control throughout the performance.
Ben Briley , a resident of Gallatin, Tennessee, performed "Turning Home," by David Nail . Jennifer said that after a brief hiccup in the beginning, she got a good feeling from it. Harry dismissed it as just "OK."
Majesty Rose of Goldsboro, North Carolina, closed the night with Coldplay 's "Fix You." Harry liked the beginning part of the performance the best. Keith was confident she'll be back next week anyway.
One of these contestants will face elimination on Thursday night's results show, airing at 8 p.m. Eastern time on Fox. The musical guests will be former American Idol champ Phillip Phillips and Irish band Kodaline .
Copyright 2014 ABC News Radio