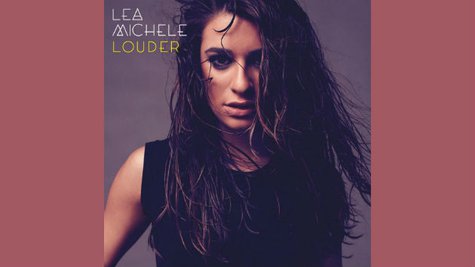 Together with her Glee co-stars, Lea Michele has racked up sales of 57 million singles, and scored 20 top 40 hits. No wonder she felt that it was finally time she got around to releasing her debut album. It's called Louder , and it's in stores this week.
" Glee was a really amazing opportunity for me to sort of be exposed to the music world, as well as, you know, understand what life is like inside of a recording booth, so it just felt like the natural step for me to create my own solo record," Lea tells ABC News Radio.
Unlike her Glee releases, Lea's debut album Louder isn't a collection of cover versions of pop hits or show tunes. It's a pop album, with songs written by the likes of Sia , Christina Perri and Lea herself. While some of the material is definitely informed by the loss of Lea's real-life boyfriend and co-star Cory Monteith -- especially the song "If You Say So" -- there are plenty of other tunes on the disc that are hopeful, romantic and upbeat. Above all, it's a very personal album for the singer.
"As a performer, you really wanna be able to say words that mean something to you, and perform like it's a story, a part of your life," Lea says. "[It's] a...creative and cathartic experience when you're singing your own songs, rather than someone else's."
While Louder is a record that's meant to be played on the radio next to the latest hits by Taylor Swift and Katy Perry , it doesn't sound like them, or, really, anything else on the charts right now. "I definitely wanted it to be unique," she tells ABC News Radio. "I wanted people to be able to listen to the songs and know, 'Oh, that's Lea Michele.' But I think also, at the same time, it's a very accessible pop record."
"I do think that it has my personal touch to it, which I'm really proud of," she continues. "But, you know, there are definitely those songs that are just those, like, standard, straight-up pop songs that you hear on the radio or you dance to in your house or your car."
As for why she chose to call the disc Louder -- that's one of the songs on the album -- she explains, "It really just, in my opinion, sums up the entire album. I really think that the song 'Louder' is such a strong and positive song about speaking your mind and being free and being open and being yourself, and I think that that's really what this album stands for."
Lea has so far released the single "Cannonball" from Louder , but looks forward to bringing all the disc's songs to her fans live with a tour, which she hopes to do between season five and season six of Glee. She also wants to do more touring when the show ends.
"You know, I grew up on the stage and performing live is where I feel the most comfortable," she tells ABC News Radio. "And I'm also incredibly proud of this record and want the opportunity to thank my fans for all their dedication, so going on tour is definitely the next step."
Copyright 2014 ABC News Radio