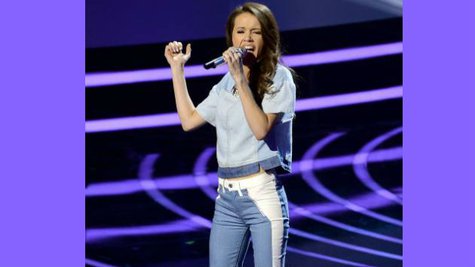 American Idol continues Wednesday night on Fox as the remaining 12 contestants perform songs with the theme of "Home." But the woman who actually went home last week -- Wild Card contestant Kristen O'Connor -- wonders what would have happened if last week, she hadn't been talked out of doing the song she really wanted to do.
Kristen and contestants Malaya Watson and MK Nobilette ended up in the bottom three last week, but Kristen says she thinks both she and Malaya suffered because of their song choices. "We both took advice from [the] production [team] on our song choices, and she felt like she didn't really connect with her song...and me too," reveals Kristen. "Because the connection with the song is so important and when it's not authentic, I think America can see that."
Kristen explains that she initially didn't consider singing the Kelly Clarkson tune "Beautiful Disaster" -- it was actually suggested to her by the production team.
"I had three songs in mind that I had planned on singing; the one I ended up singing wasn't one of those songs," Kristen says, referring to "Beautiful Disaster." "But they were like, 'Oh, we think that this would be a really good choice,' and they were really excited about it. So then I got really excited about it too, and I was like, 'Yeah, let's do it!' And so, looking back now, the one thing that I wish I could change is, I really feel like I should've followed my heart."
Ironically, Kristen was told to do just that by last year's champion Candice Glover , but unfortunately, she told Kristen on Thursday, when Candice appeared on the show. By that time, Kristen had already sung "Beautiful Disaster" and her fate was sealed.
"I really wish I had talked to her before that last week," Kristen tells ABC News Radio, "She was telling me [that] going forward, you have to choose songs that really mean something to you....[and to] make sure that when you sing a song you really connect with it, and that it's something that you really want to sing. And honestly, I think that that's one of the biggest things that I'm going to take away from this whole thing."
Kristen also appreciated the advice she got from the judges, and considers herself lucky to be a part of this season, with this panel. "I really think that these judges really are honest with their feedback and with what they have to say," she tells ABC News Radio. "And it's not, like, criticism -- it's critiques. And they really want to see you do better. They want to make the show as good as it possibly can be. So at no point have they ever made me, I think, or any of the others contestants feel bad."
As for who is now poised to win the competition, Kristen says she can't choose, because all the contestants are so interesting. "Everyone brings something so different to the table," she tells ABC News Radio. "I have no idea how America is going to choose because all the contestants are amazing at what they do. I'm really interested to see how it's going to play out!"
American Idol airs tonight on Fox starting at 8 p.m. The results show on Thursday features an appearance by season 11 champ Phillip Phillips .
Copyright 2014 ABC News Radio