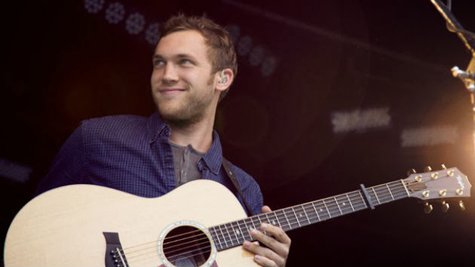 Now that Phillip Phillips' new single "Raging Fire" is out, can a new album be far behind? The singer tells Billboard that he's "aiming from somewhere around May" to release his sophomore disc.
"We kind of have a [release] date but nothing is concrete yet," Phillip tells Billboard . He says he's been working on recording the album for a month and a half, and adds, "It's a completely different album that's going to show a different side of me." Even "Raging Fire" doesn't sound like the rest of the disc, according to Phillip. "We have singles that are completely different," he says.
"Raging Fire," though, is a "love song," but Phillip tells Billboard that he likes it because it's "a little heavier" and "it's got a little bit of an edgier side to it." He co-wrote the song with the same three guys who penned his hit record "Gone Gone Gone."
Phillip will perform "Raging Fire" this week on American Idol, and though he says he's looking forward to seeing all his old friends who work behind the scenes on the show that made him famous, actually performing on it isn't his favorite thing.
"I hate live television, and I'm gonna be scared to death when I get up there," Phillip reveals. "It's always a little nerve-wracking."
You can see Phillip perform on this week's Idol results show, Thursday night at 8 p.m. ET.
Copyright 2014 ABC News Radio