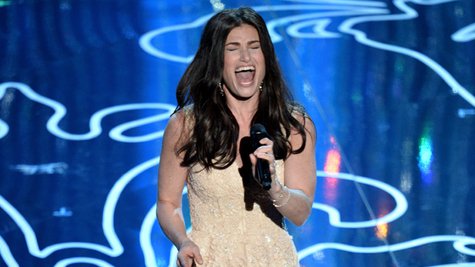 Pharrell Williams dancing with Meryl Streep ? Pink singing a Judy Garland song? The 12th EGOT ever awarded? It could only have happened at the 86th annual Academy Awards, which aired live on ABC Sunday night.
In the category of Best Original Song, U2 , Pharrell and Karen O of the alt-rock band The Yeah Yeah Yeahs all lost out to "Let It Go," the anthem from the animated Disney smash Frozen , but they all kept the music going through the evening. U2 received a standing ovation for an acoustic performance of their nominated song "Ordinary Love," from Mandela: Long Walk to Freedom . Pharrell, wearing his famous hat, got the audience -- including Meryl Streep , Amy Adams and Lupita Nyong'o -- up and dancing to his #1 hit "Happy," from Despicable Me 2. A barefoot Karen O performed "The Moon Song" -- from the movie Her -- with Ezra Koenig of the band Vampire Weekend on guitar.
Frozen star Idina Menzel belted out "Let It Go," even though John Travolta completely and shamefully mangled her name while introducing her, calling her "Adele Dazim." In fact, he did such a bad job that someone created the Twitter handle @AdeleDazim within minutes. Menzel also appeared somewhat out-of-sorts during her performance, which may have been a result of a bad connection between her in-ear monitors and the orchestra, which was actually in another building.
As a result of the win, Robert Lopez , who co-wrote "Let It Go" with his wife Kristen, now has an EGOT -- an Emmy, Grammy, Oscar and Tony. He's only the 12th person in history to achieve this milestone; the others are composers Richard Rogers , Jonathan Tunick and Marvin Hamlisch; producer Scott Rudin , actors Rita Moreno , Whoopi Goldberg , Mel Brooks , Helen Hayes , Audrey Hepburn and John Gielgud , and director Mike Nichols .
Pink also performed Sunday night; she sang "Somewhere Over the Rainbow," as part of a tribute to the film The Wizard of Oz , while the children of that film's star, Judy Garland, watched from the audience. While singing, she wore a floor-length red spangly dress, as a tribute to Dorothy's famous ruby slippers.
Bette Midler also performed on the Oscars for the very first time, singing "The Wind Beneath My Wings" as part of the "In Memoriam" segment, which paid tribute to those we lost in the past year, from Philip Seymour Hoffman to James Gandolfini to Shirley Temple.
Copyright 2014 ABC News Radio