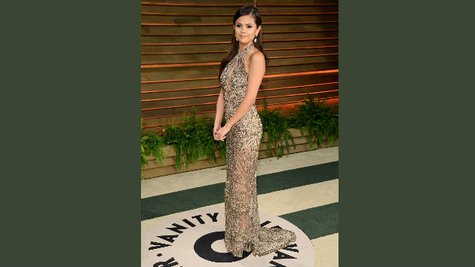 The crazy year that Justin Bieber's had still hasn't driven the thought of his ex, Selena Gomez , from his brain. It appears that he's still pining for her.
On Instagram, Justin's posted a photo of Selena from this year's Vanity Fair Oscar party, looking beautiful in a gold floor-length Emilio Pucci halter dress. He captioned the image, " Most elegant princess in the world. "
MTV points out that perhaps Justin chose to post an image from the Vanity Fair party, because it was at that same party in 2011 that the two went public with their relationship. Selena, meanwhile, posted a photo of herself at the party embracing her friend Vanessa Hudgens , which she captioned, " my only, official party buddy for life ;) ."
Meanwhile, Justin, who turned 20 this past Saturday, showed gratitude for all his birthday greetings, tweeting , "Thanks to everyone for all the birthday wishes. Means a lot. Blessed and hoping we can continue to change the world together. Thanks." He also made mention of the fact that he's got 50 million followers on Twitter. Katy Perry, the current Twitter champ, has 51 million.
Copyright 2014 ABC News Radio