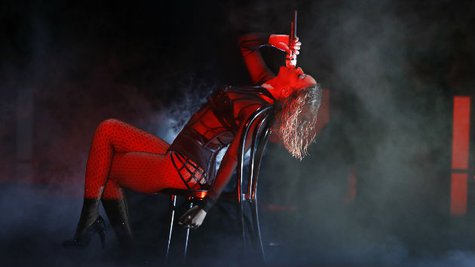 Remember watching that awards show at the end of January that promoted Satanism, pushed a gay agenda and featured soft porn dance routines? No? Well, that's exactly how some irate viewers viewed this year's Grammy Awards, according to official complaints filed with the FCC, which are now available for viewing at TheSmokingGun.com.
There were more than 40 complaints filed following the January 26 telecast on CBS, and most of them had to do with Beyonce and Jay-Z 's sexy opening performance of "Drunk in Love," Katy Perry 's witch-themed performance of "Dark Horse," and the mass marriage of couples, both gay and straight, that took place during Macklemore and Ryan Lewis' performance of "Same Love." Here's a roundup of some of the choicest comments by outraged viewers:
Complaints against Beyonce:
"To open the program in the 8pm hour with a woman doing a lip-synch [sic] soft porn dance on a chair is grossly inappropriate...grinding against her husband a la stripper/porn style is hardly a way to demonstrate marital love in front of children."
"She was dressed like a prostitute and was spreading her legs on a chair...after that performance was over I felt like I should be taking antibiotics for something it was that trashy."
"Where is the class? I want to ask Beyonce if it's okay [if] I] stick my butt in her child's face like she did mine?"
"My 16 year old daughter was viewing the show with me and had the good sense to say 'This is totally inappropriate.'"
Complaints against Katy Perry:
"I was...shocked by the overt summoning of Satan by Katy Perry. Really? With all the people cheering, I would think he would have been happy to unleash himself upon them."
"The program was filled with demonic and occult symbolism"
"Katy Perry was provocative and promoted Satanism."
Complaints against Macklemore's performance
"Such outright actions of forcing the 'gay agenda' on the rest of us should not be acceptable...there it was in all its disruptive glory, forced on an unwitting public."
"Performing gay marriages has nothing to do with award shows...this was pure disgust."
"Gay wedding ceremony was revolting and the song lyrics were an attack on Christianity and should be considered hate speech."
"We were interested in music not some gay agenda. Isn't that what cable channels are for?...I had to remove my children from the room."
"What a slap in the face to the many conservative Christians, Jews, Muslims and others who believe in traditional marriage. We were shocked that this was allowed to be aired on television."
And all three:
"The program included obscene lyrics and dress, especially by Beyonce, as well as a Satanic worship-like dance by Katie [sic] Perry, which by its inclusion mocked Judeo-Christian values, the multi-gendered weddings were a travesty and were an attack on the Biblical and traditional basis for marriage."
You can read all the comments over at TheSmokingGun.com . Wonder what the viewer complains were like for Miley Cyrus' MTV VMA performance?
Copyright 2014 ABC News Radio