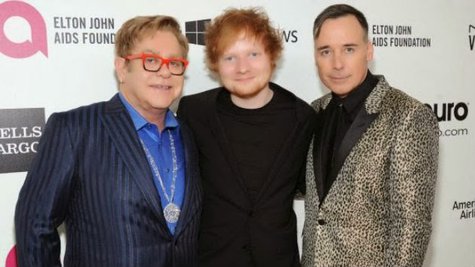 At the Grammys in 2013, Ed Sheeran sang a duet with Elton John , who owns the management company to which he's signed. Sunday night in Los Angeles, he sang with Elton again at an event that was equally as star-studded: the music legend's annual Academy Awards Viewing Party, which raised a whopping $5.1 million for the Elton John AIDS Foundation.
At the event, Ed sang his hits "Lego House" and "The A Team," and then he and Elton joined forces for a rendition of "Candle in the Wind," a song inspired by the late Marilyn Monroe that appears on Elton's classic album, Goodbye Yellow Brick Road. As previously reported, Ed has recorded a new version of the song for an upcoming deluxe repackaging of that album .
Watching the performance was a crowd that included Britney Spears , Lady Gaga , Heidi Klum , Ozzy , Sharon and Kelly Osbourne , Kim Kardashian and sisters Khloe and Kourtney , Whoopi Goldberg , Sheryl Crow , Steven Tyler , Taylor Swift , Neil Patrick Harris , Robert De Niro , Anna Paquin & Stephen Moyer , Kellan Lutz , Lance Bass , JC Chasez , Kelly Rowland , Chace Crawford , Chris Colfer , Alex Pettyfer , Nikki Reed , Johnny Weir , Vanessa Hudgens , and many more celebrities.
On the red carpet, Ed noted that every star who attended ponied up $10,000 for a ticket, telling reporters, "To be honest, you get a lot of rich people who don't know what to do with their money, so if they can throw their money in the right direction, it's a good thing."
Addressing his guests at the event, Elton said, "Look at the thousands of people you've helped tonight. The film that just won, [ 12 Years a Slave ], was about liberating people from an awful life of slavery. And what we're trying to do is to liberate people from the stigma and the disease of AIDS, and your generosity tonight has been amazing and hopefully, it will continue to be amazing."
Copyright 2014 ABC News Radio