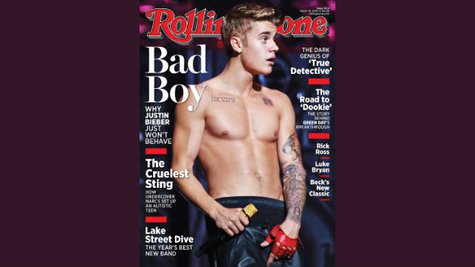 Starting this weekend, we can no longer refer to Justin Bieber as a "troubled teen star." That's because the troubled singer turns 20 today, March 1.
When Justin turned 19, he declared it to be the "worst birthday," after getting into an altercation in a London nightclub after it denied entry to underage members of his party. He subsequently left the premises -- or was ejected, depending on whom you believe. But will his 20th birthday be any better? Let's look at the evidence.
Justin is currently on the cover of Rolling Stone magazine, accompanied by the headline "Bad Boy: Why Justin Bieber Just Won't Behave." The article ticks off all of Justin's recent misfortunes, including his arrest for DUI in Miami; his alleged egging of his neighbor's house, which has made him a suspect of felony vandalism; his alleged assault of a limo driver in Toronto; his antics at a Miami strip club; his alleged use of pot and "sizzurp"; his reported weed-fueled flight to New York for the Super Bowl, and more.
According to Rolling Stone, those around the singer offer various explanations for his sudden descent into tabloid hell. Some say his father, Jeremy , is being an enabler, while others say that Justin's acting out because of his breakup with Selena Gomez . Still others say that Justin's friends, Lil Za and Lil Twist, are bad influences on the singer.
A source close to Justin tell the magazine that one reason why the star doesn't appear to be listening to reason is because so much of what is reported about him is inaccurate. "That makes it harder for him to recognize his behavior," says the source. "It's easy for someone who is acting out to counter claims that their behavior has crossed the lines when they see reporting of stuff that never happened. He feels persecuted and mis-perceived."
So, can Justin Bieber and his career be saved? "The next step for Bieber is to understand that he's in the gutter," crisis PR consultant Howard Bragman tells Rolling Stone . Once he does that, owns up to his bad behavior, apologizes, and -- one source suggests -- blames the drugs, he'll be well on his way to redemption.
As for Justin himself, he knows what he wants for his birthday. He tweeted , " #giveback for my bday. let me know how you are helping change your community and world. thanks."
Copyright 2014 ABC News Radio