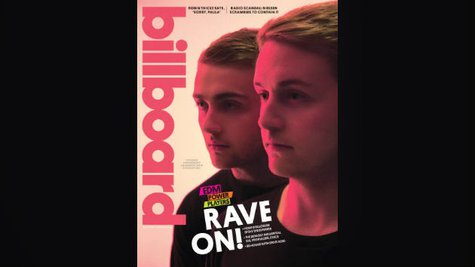 In addition to his own top 10 hit "Stay with Me," Sam Smith is also featured on the hit "Latch" by the British electronic duo Disclosure. The duo says they were amazed by Sam's voice when they first heard it, and when they met him, they were amazed by the fact that he was a guy.
Disclosure -- brothers Howard and Guy Lawrence -- grace the cover of the new issue of Billboard magazine. In a video interview they did with the publication, Howard Lawrence says he and his brother first heard Sam on a song he'd written called "Lay Me Down."
"We asked about him and found out that he was just some guy working in a bar, and that he wasn't a musician, well, y'know, he wasn't a professiona l musician," recalls Howard. "We got in the studio with him, that was the first day we met him, [and] we just kinda thought, 'Oh yeah, this sounds good.' That was the day we wrote 'Latch''and yeah, we were blown away."
But Sam has such a high falsetto voice, Howard adds, that "I was kinda blown away to find out that he wasn't a girl."
"Latch" was Disclosure's first big U.K. hit and now it's their first in the U.S. as well, much to the surprise of the duo.
"We thought 'Latch' was too weird for the radio and not clubby enough for the clubs," says Guy. "[It's] just a strange song that people like."
Follow @ABCNewsRadio
Copyright 2014 ABC News Radio