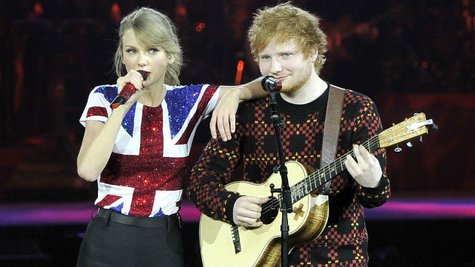 What kind of Internet content do people seem to love the most? That's right, cat photos. Taylor Swift evidently knows this, because she's using one to entice people to purchase her friend Ed Sheeran 's new album.
Taylor previously posted a link to Ed's album on iTunes and invited her fans to buy it by reminding them how he "played his heart out" for them when he opened for her on her tour. Her latest attempt to increase Ed's sales numbers are Twitter and Instagram posts captioned, " If you're on the fence about buying Ed Sheeran's new album, X , allow me to convince you with this image." They'e illustrated with an adorable shot of Ed nose to nose with Taylor's beloved cat Meredith .
Ed doesn't really need Taylor's help though; predictions have X (Multiply) debuting at #1 on the chart next week with sales of close to 200,000 copies.
In other Ed Sheeran news, he's quite pleased that his friends Courteney Cox and Johnny McDaid of Snow Patrol have gotten engaged, since he introduced them. After the couple tweeted that they were engaged, he replied to them both, "yayayayay
Follow @ABCNewsRadio
Copyright 2014 ABC News Radio