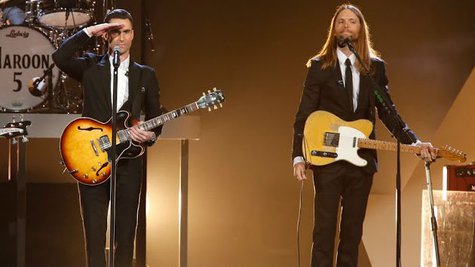 An article in the new issue of GQ magazine goes into great detail on the topic of why Adam Levine is so often described as a "d-bag." Even Adam admits it's "100% definitely easy to assume" that he is one. But the people who know him best -- his Maroon 5 bandmates -- insist that Adam Levine is unequivocally not a d-bag -- it just might take you a while to realize it.
In the article, Adam tells GQ , "I'm not the easiest person to love right off the bat, you know. If I knew everyone in the world, they would love me." And Maroon 5 guitarist James Valentine tells ABC News Radio that's actually a pretty accurate statement.
"Yeah, I mean I understand what he's saying," James responds after being informed of Adam's comments by ABC News Radio. "And he's said before, too: it's like...he's not the type of guy that you would want to root for, y'know? So I understand why the people would snipe and call him a d-bag. For sure, he gets it too."
As for why you wouldn't want to "root for" Adam Levine, the fact that he's insanely good-looking, beyond wealthy, crazy talented and engaged to a Victoria's Secret model might have something to do with it. But James says if, like him, you know the real Adam, you can see past all that.
"Once you get to know him, you understand what he's all about," laughs James. "And I don't think, you know...we, as his friends, we would not consider him a d-bag. But I can understand why people would assume that he is."
It's a good thing that Adam's not a d-bag, considering the fact that he and the band are about to start spending a whole lot of time together, promoting and touring behind their upcoming album V . The disc is due in September, and they plan to launch a major tour in early 2015. By the way, James says as far as he's concerned, the title of the album is pronounced "Five," not "Vee."
Follow @ABCNewsRadio
Copyright 2014 ABC News Radio