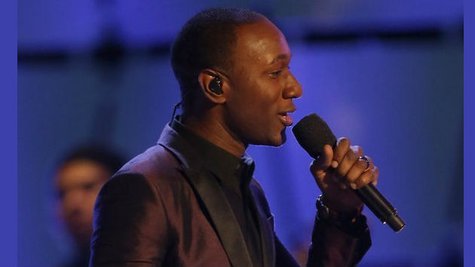 If Aloe Blacc decides to crack open a cold one this summer to toast to his success, he'll be able to do so with a bottle of beer whose label he designed himself.
Aloe is one of the artists participating in Beck's Beer's Live Beyond Labels series, which commissions musicians to design original artwork that is then displayed on the labels of Beck's beer bottles. This year's series will start July 1, and in addition to Aloe, "Safe and Sound" duo Capital Cities has also created label artwork.
Aloe's label design features a pair of red-framed sunglasses and a red bow tie. "Beck's is the kind of brand that is on the border between a little bit fancy but still cool and hip, and I feel the same way," he tells USA Today , by way of explaining his design. "When I'm onstage, I'm wearing a suit and trying to look fancy, but I'm also trying to present music that's cool and hip."

Capital Cities' label depicts "two characters in a spacecraft, flying through a fantasy world," according to USA Today. The duo can enjoy their beer this summer while they open for Katy Perry 's Prismatic world tour: they're on the road with her through early August.
Follow @ABCNewsRadio
Copyright 2014 ABC News Radio