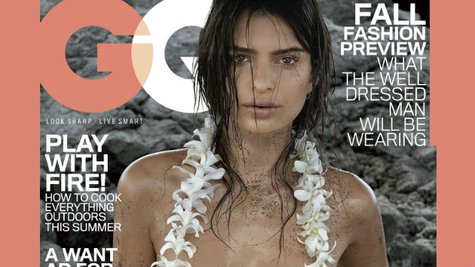 A year ago, everybody was talking about Robin Thicke 's song "Blurred Lines" -- well, they were talking about the video for the song, which featured several topless models dancing with Robin, who was fully clothed. Now, a year later, one of those topless models says hearing the song makes her uncomfortable.
Emily Ratajkowski , who covers the new issue of GQ magazine , reveals that initially, she didn't want to do the "Blurred Lines" video, but then, she says, "I talked to the director" -- a woman, by the way -- "and I understood what it was." Asked if she actually likes the song, Emily tells GQ , "I do like it. But if there's one thing I'd request, it's for people who see me out to not be, like, 'You're the hottest b** in this place .' When it comes on in a bar, I run into the bathroom and hide."
She adds that going out to bars is "bad," meaning she always gets hassled as a result of the video.
"Guys will say, 'You know who you look like...,' and then word spreads," she explains. "Or guys do this thing where they go, 'I would love to take a picture of you for my friend.' And then they get out their phone and their hand's shaking, and I'm like, 'You're taking this for your friend? I thought you didn't care.'"
But the video did lead to one good thing: she ended up being cast in the upcoming Ben Affleck movie Gone Girl as a result.
Emily plays the mistress of Affleck's character in the film, and director David Fincher tells GQ, "We needed somebody where, at the moment she appears, the women are going, 'That is unconscionable and despicable.' And you also have the men going, 'Yes, but... ' And so Ben said, 'Yeah, like the girl in the 'Blurred Lines" video.'"
Follow @ABCNewsRadio
Copyright 2014 ABC News Radio