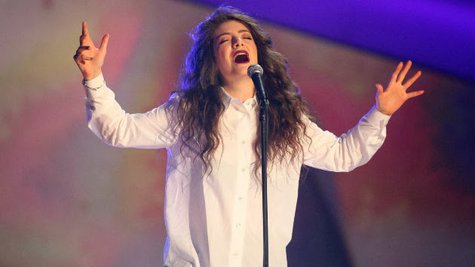 Some musicians prepare for a concert by meditating, napping or partying. Lorde's pre-show rituals. meanwhile, involve eating seaweed, and feeling like she's about to throw up.
Speaking to the British paper The Guardian , Lorde says, "Usually before a gig I have a sleep in my dressing room under a blanket I take everywhere with me. I eat some berries or some dried [seaweed] -- which I get all over my face -- in place of dinner, because a couple of hours before the performance, my stomach starts heaving and I feel like I'm going to throw up -- even when I'm not that nervous. It's the weirdest thing."
Thankfully, this feeling doesn't last through the whole show. "Waiting in the wings before I go on, I still feel like I am going to throw up, but as soon as I walk on stage, the nausea disappears," she explains. Also giving her confidence: her onstage costumes, which mostly consist of suits. "There's something about putting it on that feels like a ritual, entering into a kind of pact with the stage," she explains. "Once I've got my suit on, I can do anything."
Some physical exertion also helps the singer get psyched up. "My keyboardist, drummer and I meet in their dressing room and listen to music with a groove to get in the zone," she reveals. "I do lots of stretching, because when I perform my limbs fly all over the place. The boys laugh at me lunging across the room."
And afterwards? How does Lorde unwind after thrilling thousands of fans? "I don't really do anything specific to unwind except lie on the couch, drink water, wipe off the sweat and the lipstick. That's about it," she tells the paper. Well, she is only 17, after all.
Lorde kicks off an Australian tour on July 5. She'll be back in North America starting in August for Lollapalooza and a few more festival appearances.
Follow @ABCNewsRadio
Copyright 2014 ABC News Radio