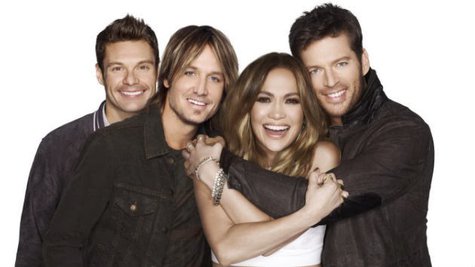 Fox has made it official: Jennifer Lopez , Keith Urban and Harry Connick, Jr. are returning to American Idol .
All three artists have agreed to remain on the judges' panel for the singing competition's 14th season, which will premiere in early 2015. Ryan Seacrest will again join them as the show's host.
American Idol executive producer Trish Kinane says in a statement, "I am delighted that our dream team of Jennifer, Keith and Harry is back for American Idol XIV . Their experience, humor and passion for new talent has made them one of Idol 's strongest-ever judging panels, and coupled with the expertise and charisma of Ryan Seacrest, we are ready to get out there to find the best talent in America."
Idol creator and executive producer Simon Fuller adds, "Their interaction, warmth and experience made them an absolute joy to watch. I can't wait to see their evolution together continue next season."
It had been widely expected that the judges' panel would remain intact for the 14th season. Harry confirmed to ABC News Radio in May that he would return.
Auditions for the new season began last week.
Follow @ABCNewsRadio Copyright 2014 ABC News Radio