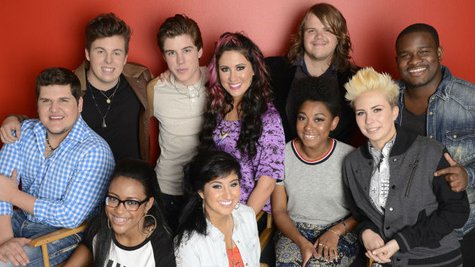 American Idol wrapped up its 13th season a month ago, and if you're already missing your Idol fix, good news: the show's annual tour kicks off Tuesday night in Binghamton, New York. While acknowledging that the set list is essentially a "rehash" of this past season, the participating finalists say they're really looking forward to actually meeting all the people out there who voted for them.
"It's going to be awesome. It's going to be a really awesome, personal experience that I get to reach out to the people that were impacted by my voice and music, so that's going to be really cool," champion Caleb Johnson tells ABC News Radio.
Runner-up Jena Irene agrees. "I'm really excited to meet the fans just because I've been so focused on the competition, I haven't really been able to go outside and meet everyone that's been supporting me on Twitter and stuff," she tells ABC News Radio. "So I know there's a lot of fans that are posting about coming to tour on Twitter so I can't wait to meet them in person."
Fourth-place finisher Jessica Meuse says of the tour experience, "Every day I'll get to do what I really love, and that in itself is a blessing, but I just can't wait to meet the people I've been talking to on Twitter and everything."
As for what we can expect to see on stage, Caleb says, "It's going to be highlights from the show. I'll be doing...the finale single, 'As Long As You Love Me,' and also I'll do some duets with Jena and there will be some group covers, I think. [It's] just going to be a rehash of what we did on the show so it's gonna bring back memories."
Jena's more specific, noting that she'll be performing three solo songs: her show-stopping performance of "Can't Help Falling in Love; "My Body" by Young the Giant -- "just because it's an awesome song to perform and it gets everyone going," she explains -- and her single "We Are One." Plus, she'll do a duet with Caleb and there'll be two group performances.
In addition to meeting and singing for the fans, though, the Idol top 10 -- which also includes Alex Preston , CJ Harris , Malaya Watson , MK Nobilette , Majesty Rose , Sam Woolf and Dexter Roberts -- are all extremely close, so they're also excited about hanging out with one another for the next two months. In particular, Caleb says he's looking forward to "the times I'm going to have with my friends."
Season 12 champ Candace Glover advises that all the finalists really try to be in the moment and have a great time, unlike what happened with her and the finalists from her year.
"Enjoy it," she tells ABC News Radio when asked if she had any advice for these singers. "The top 11 from season 12, after, like, show 8, we were over it! We were like, 'I want to go home, I want to go to my family.' But then when the show's over, now we all talk to each other, and it's like, 'I wish I could do that song one more time, I wish I could perform that one more time.' So make sure you enjoy it and take it all in and everything."

The Idol tour wraps up August 23 in Redmond, Washington.
Follow @ABCNewsRadio
Copyright 2014 ABC News Radio