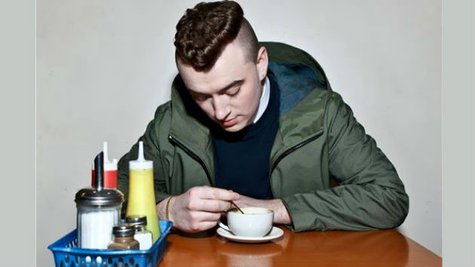 A week's worth of promotional activities in the U.S. may have done wonders for sales of Sam Smith 's debut album, but it didn't do his voice any favors. The singer was forced to bail out of a major festival appearance in the U.K. over the weekend because his voice was shot.
Sam was slated to perform at the Summertime Ball, a multi-artist event sponsored by a major British radio station, but he couldn't make it. " I am so so sad to say I won't be performing today. I've just got off the plane and my voice has completely gone," he wrote on Facebook . "This is the first show I've ever had to cancel and I am praying that it is the last. I really have to avoid any long term damage to my voice. Once again, I am so sorry."
A day ago, he posted a photo of himself in bed on Instagram , writing, " Laying in bed feeling sorry for myself today. Vocal rest sucks ."
Thankfully, Sam can still tweet, which he's been doing steadily, mostly expressing surprise and delight at the U.S. chart success of his single "Stay with Me," and the sales of his album, In the Lonely Hour , which is expected to debut high on the Billboard chart this week.
Follow @ABCNewsRadio Copyright 2014 ABC News Radio