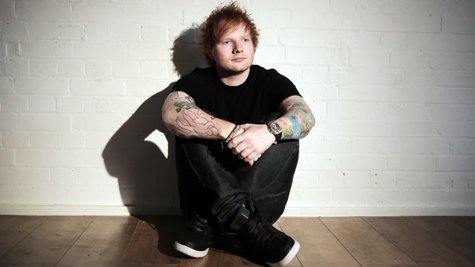 You might expect Ed Sheeran to turn up on the cover of Rolling Stone , but Vibe ? The singer revealed on Instagram that he's gracing the cover of the new issue of the famous hip-hop magazine, which says that he's "representing for the future of R&B."
Ed poses for the cover of the magazine's summer issue with two rising R&B singers: Mack Wilds and August Alsina . He tweeted , "Happy to be the first British dude on the cover of Vibe ." It's not clear whether or not that's actually true, though.
If you're wondering why Ed is featured in the magazine, well, it's because inside that red-haired British acoustic folkie is a rapper just waiting to get out. He's a massive fan of hip-hop, in fact, and he's worked with rappers like Lupe Fiasco and The Game . His love affair with the genre started when he was nine, and discovered Eminem. The Marshall Mathers LP remains his favorite album, according to the magazine, and freshman year in high school, he even dressed like Em's 8 Mile character one day and went around rapping "for anyone who'd listen."
"Just because I'm a man with an acoustic guitar doesn't mean I have to play love songs. I want to straddle all worlds at once," he tells Vibe . " I want to do my acoustic stuff, write for the biggest pop acts in the world, and also work with all the rappers I like, underground or not."
The Vibe issue with Ed on the cover is out next week.
Follow @ABCNewsRadio
Copyright 2014 ABC News Radio